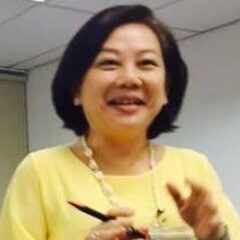 32 Jalan Industri USJ 1/1, Taman Subang Jaya, Selangor 47600 MY
Phone: +601 2216 2396
Fax:
Website:
Email: gina@zinfinity.com.au
After a successful career in the software industry, Gina Phan is now a learning facilitator who enjoys equipping others by using the PSP (Purpose-Structure-Process) method to
encapsulate their learning of skills for them to be confident and successful. She focuses on
communication strategies to help people achieve these goals.
Gina started her career as a software developer. During the formative years, she realised that effective communication skills focused on relationship-building are important assets to a professional. Her career took her to apply these skills in leadership, customer service, product specialisation, sales and marketing, business management, and problem-solving. Her career path provided a continual process in professional development. Her work today reflects the 30-year experience as an accomplished leader in both corporate and entrepreneurial settings.
After leading VTLS Technologies (now Innovative Interfaces, Inc) as the Managing Director for 14 years, she is now passionate about sharing practical skills for success.
Gina is a Certified Professional Trainer (IPMA, UK), a certified ReACH Practitioner, and a Certified Brian Tracy Solutions Trainer.
Formed in 2016, Zinfinity Consulting is structured to help bring your organisational learning vision to reality. Your human resource is your greatest asset and investment. We help organisations to succeed by inspiring, developing, and transforming their people. We can help you improve effectiveness in your organisation's areas of challenges – sales, services, operational productivity, communications, certification and teamwork.
Along with the training offered, Zinfinity Consulting can offer an array of consulting services that best fits your needs. We have the right solution for a successful outcome.
Our trainers and consultants have worked with different types of organizations – manufacturing, leisure and wellness, non-governmental organizations, IT vendors, plantations, and retail.
We believe that a customised training environment is most effective, because practical exercises and case studies are designed to simulate the everyday experience of our training participants. Each participant goes back with practical concepts that they can apply immediately in their workplace.