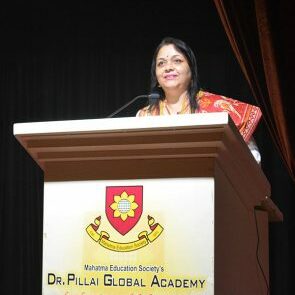 Dr. Pillai Global Academy, New
With more than twenty-five years of teaching experience, Dr. Latha Venkataraman has been teaching courses in Commerce, Banking and Insurance, Management and Education, at the Graduate and Post Graduate level. She earned her Ph.D. in Education from the University of Mumbai and has been an Examiner for the past fifteen years at the esteemed Mumbai University.
In addition to Master's degrees in Commerce, Economics, Education and Human Resource Management, Dr. Latha Venkataraman also holds an MBA in Education Management. She has been leading educational institutions for almost two decades.
Dr. Latha Venkataraman is passionate about teaching and learning and considers herself a lifelong learner. She is a voracious reader who is convinced that reading is as necessary to her as breathing!
With more than thirty-five published research papers to her credit, Dr. Latha has edited an interesting work of fiction '365 Days of F(ib)B-ing' written by Nirupama
PRV.
Dr. Latha recently co-authored the book "A Glimpse Into Political Perspectives of Education" with Nirupama PRV. (Available on Amazon)
A licensed life coach as well, Dr. Latha Venkataraman enjoys advising students with career and self – development and collaborating on research work. She currently serves as the Director of Dr. Pillai Global Academy, New Panvel.
Blog: https://lathateacher.wordpress.com
Dr. Pillai Global Academy, New Panvel is an international school affiliated to Cambridge IGCSE Board and International Baccalaureate Board, imparting world class education from kindergarten to Grade 12. The school provides holistic education based on new-generation academics that create not just powerful global career options for students, but which empowers them to become key contributors to society and truly global citizens.
The school is the brainchild of visionary Leader and Chairman of Mahatma Group of Institutions, Dr. K. M. Vasudevan Pillai. At DPGA, New Panvel, the mission is to achieve nation-building through character-building, through an approach of mentoring.