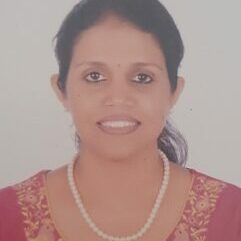 101 Sparkle, City of Joy,
Mulund West, Mumbai - 400080 India
Phone: 9004223454
Fax:
Website:
Email: bettysibil@yahoo.com
Not for Profit Section 8 Company under the Companies Act, 2013, India
Forum of Women in Commerce and Industry
Betty Sibil is an Associate Professor at Pillai Institute of Management Studies and Research (PiMSR). She teaches courses like Training & Development, Human Resource Management and Organizational Behavior to students pursuing the Masters Program in Management. She holds a Ph.D. in Business Policy and Administration from the esteemed University of Mumbai and has acquired her Masters degree in Management Studies
At PiMSR, she is a member of the Institution's Innovation Council (IIC), which is an initiative that comes under the Ministry of Education's Innovation Council. As an IIC member, she is instrumental in creating and developing an ecosystem which fosters an innovation culture among students studying at the institute.
Her research interests include issues relating to leadership in the business context and human resource interventions that focus on developmental aspects of employees. She has numerous research papers to her credit and has also published two book chapters in the renowned IGI Global
Pillai Institute of Management Studies and Research (PiMSR) is a premier Business School that imparts quality management education to students enrolled for the post-graduation program. PiMSR comes under the aegis of the prestigious University of Mumbai and is approval by All India Council of Technical Education (AICTE). Since its inception, PiMSR has been instrumental in developing future business leaders, who strive to make a positive contribution to the organizations they work for and society at large. The institute aims to develop an entrepreneurial ecosystem in the country by focusing efforts towards entrepreneurship, research and innovation.